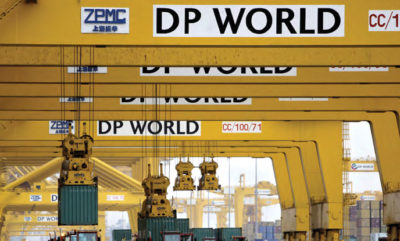 Saudi Arabia, the Arab world's largest economy, is focused on diversifying its economy away from oil as part of its Vision 2030 program. The kingdom is forecast to be a vital driver of global trade growth. Its exports are projected to expand at an average annual rate of more than 7 percent to $354 billion by 2030, Standard Chartered said earlier this year. "The strategic Vision 2030 framework includes the development of a prosperous and sustainable maritime transportation ecosystem that supports the Kingdom's socio-economic ambitions and consolidates its status as a global logistics hub," said Sultan Ahmed Bin Sulayem, Group Chairman and CEO of DP World. The Jeddah Islamic Port, which is strategically located on the Red Sea, has historically played a pivotal role in facilitating the movement of trade between the East and the West.
Logistics Park at the Jeddah Islamic Port
Further strengthening the deep ties shared between the UAE and Saudi Arabia, DP World and Saudi Ports Authority (Mawani) have signed a 30-year agreement to build a state-of-the-art, port-centric logistics park at the Jeddah Islamic Port. An investment value of more than Dh490 million ($133.4 million) aims to establish a 415,000 sq. m logistics park with an in-land container depot capacity of 250,000 TEUs (twenty-foot equivalent units) and a warehousing storage space of 100,000 sq. m.
The Authority's move to develop a holistic logistics park will enhance the competitiveness of the Jeddah Islamic Port. The park will boost Jeddah Islamic Port in terms of:
Re-export activities
Help to reduce the time and cost of logistics for importers and exporters
Provide an integrated service platform linking port operations with last-mile activities.
Enable to offer processing, consolidation /deconsolidation, labeling, and fulfillment
Offer temperature-controlled storage for cargo
Advanced and eco-friendly e-services by integrating the operations of the South Container Terminal with the new logistics park.
Help raise the quantity of trans-shipped goods
DP World Managing the South Container Terminal
In April 2020, DP World signed a new concession agreement with Mawani to continue operating and managing the South Container Terminal at the Jeddah Islamic Port for 30 years. DP World has committed to investing more than Dh2.94 billion to expand and modernize the terminal. The overhaul project will take place over four phases and be completed by 2024.
The project will involve:
New infrastructure upgrades
Broadening of draft depth and quay
Installation of advanced equipment and technologies
Automation and digitalization programs
Decarbonization initiatives
The revamped terminal is projected to increase Jeddah Islamic Port's container handling capacity from the current 2.5 million TEUs to 4 million TEUs. This will enhance Jeddah Islamic Port's status as a major trade and logistics center on the Red Sea coast.
Metals and minerals, plastic and rubber, chemicals, and pharmaceuticals will dominate the kingdom's exports over the next decade, with India, China, and South Korea being the principal export markets.
DP World makes inroads across the world
DP World is one of the world's biggest operators of marine ports and inland cargo terminals, with gateways from London and Antwerp and hubs in Africa, India, Russia, and the Americas. The Dubai-based company has been on an acquisition spree as it attempts to become a more diversified and integrated logistics company. In the recent past, they have signed agreements with the Angolan government to develop the country's trade and logistics sector and acquired South Africa's Imperial Logistics to strengthen the port operator's position in Africa.
The agreement to build a "port-centric park" at the Jeddah Islamic Port was signed under the patronage of Eng. Saleh bin Nasser Al Jasser, Saudi Arabia's Minister of Transport and Logistic Services and Chairman of Mawani. The logistics park will expand DP World's regional footprint and bring multi-modal logistics solutions to the nation. DP world being an end-to-end supply chain provider, will help build logistical services that will bridge the existing market gaps. This port-centric logistic park will empower to provide the best-in-class logistical services by collaborating with leading service providers.
"This partnership will connect the port's operations to the new logistics park to offer end-to-end logistics services with high efficiency," Omar Hariri, president of the Saudi Ports Authority, said.