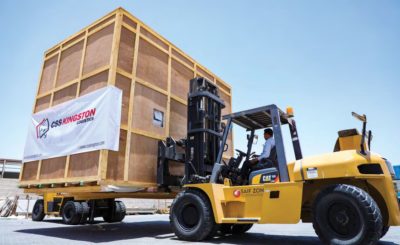 Over the last few years, CSS has set an enviable track record in air shipments of large equipment, luxury cars and bikes. CSS Kingston Logistics, Ras Al Khaimah recently had the opportunity to undertake the movement of an aircraft engine all the way to Antwerp, Belgium from Jebel Ali. The Air Craft Engine was shipped on a HAPAG LLOYD on a 40 feet flat rack.
CSS Kingston Logistics, Ras Al Khaimah
CSS Kingston Logistics' Ras Al Khaimah branch started it operations in the midst of the pandemic in August 2021. With the backing from our leading networks and global partners, the division soon emerged as a trusted and reliable logistics partner catering especially to the northern Emirates of UAE. The branch has specialized in 3PL services and offers reliable cargo movement to LCL hubs. CSS Kingston also offers documentation, storage and logistics, all under one roof. Above all, it has a dedicated team of professional manpower who are willing to go the extra mile till the project is completed. Team CSS Kingston has been providing exceptional tailor-made solutions to meet the specialized client requirements.
The shipment of the aircraft engine was undertaken on 13 June 2022. It had to be delivered securely all the way at Antwerp, Belgium. Our clients had entrusted this highly costly and sensitive cargo in our safe hands!
Aircraft Parts Transportation
In the world of aviation, even seemingly small aircraft parts can cost a lot of money, making their transportation both risky and costly. Aircraft parts transportation needs special handling and immediate response. Aircraft engines are highly valuable with highly sensitive components. Therefore, adequate safety precautions need to be taken when transporting them. Keeping this in mind, safety was our priority.
Partnering with experts with specialist knowledge was the key. For shipping the aircraft engine, a dedicated vehicle with a large capacity was required to secure the cargo. With this type of high-value shipment, the question is not how much it will cost or how long it will take, but rather trustworthy partners who will be fully committed to the project till its delivery. We collaborated with experts, trusted shippers to provide services that comply with all the safety regulations to ensure that the parts arrived as intended.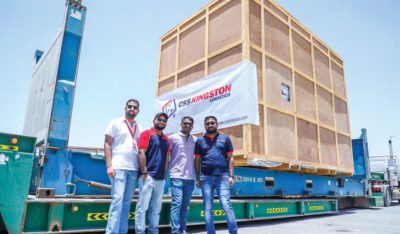 A Transcontinental Shipment
Apart from all this, the shipment delivery location was in Belgium, Europe. This required cross-channel logistics support combined with inventive thinking and innovative strategy. The operations team closely aligned with the manufacturer's guidelines to safeguard the integrity of the engine throughout the entire transportation process. The result was a secure transport solution with minimal hassles and maximum attention to detail.
CSS carried out this specialized operation for this cargo along with expert freight carriers and a dedicated team of logistic experts. We successfully delivered the aircraft engine securely and intact at the client's location in Belgium. It was indeed a mammoth operation; at the end of the day right combination of top technology, expert human resource inputs and experience got the job "well done". We completed movement with minimal loading time and maximum attention to detail.